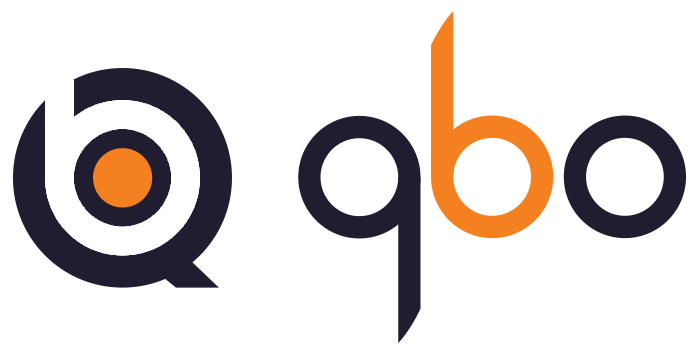 WHAT IS QBO?
QBO is one of the most advanced sports trading platforms on the market. QBO (Quick Betting Order) is designed exclusively for professional traders to give them the best odds and highest stakes across multiple bookmakers and exchanges.

The QBO betting platform is an easy to use, multi-channel interface showing real time updated best odds, so that users can place aggregated orders at the highest liquidity in milliseconds. This solves any problems associated with poor liquidity, price movements and manual execution errors.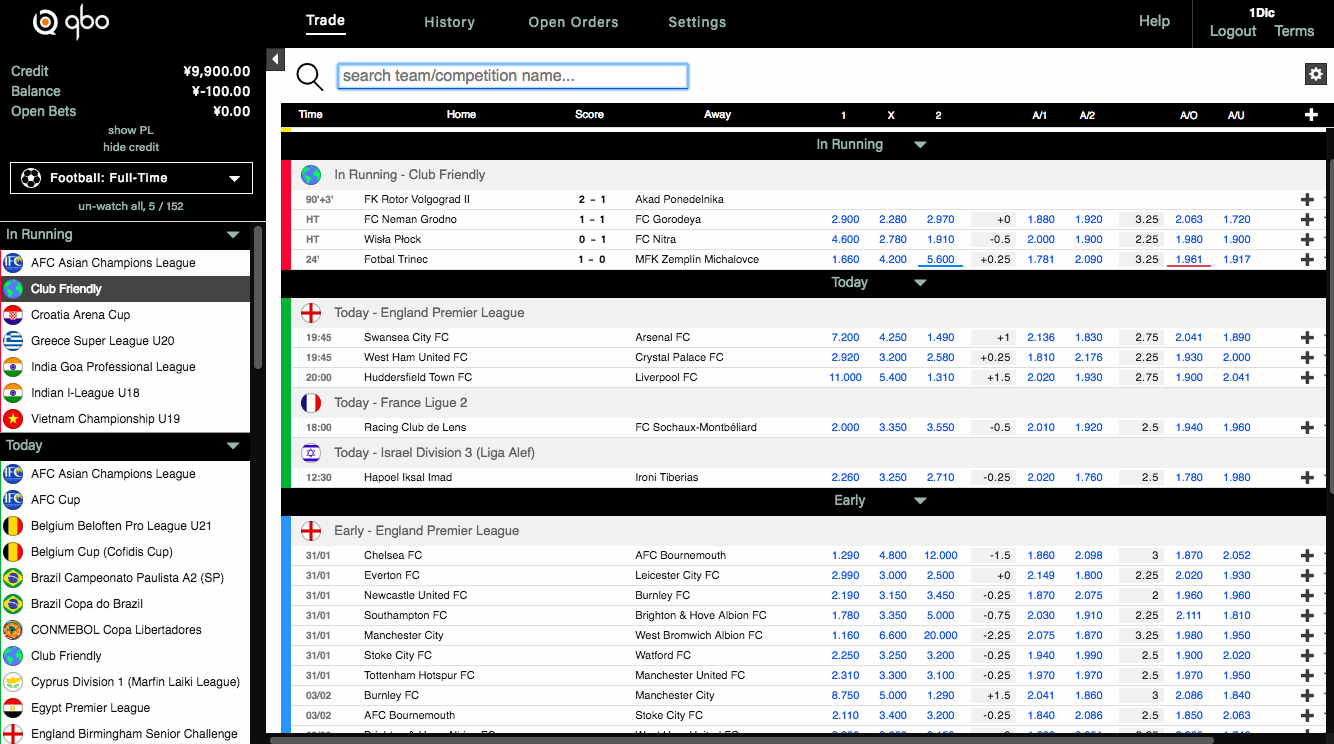 WHY QBO?
Designed for both pre-game and in-running use, QBO's multi-account betting software gives you access to the best odds in the market from a number of the leading Asian bookies. The system also provides you with the highest limits available at a specific time, and allows you to manage all your bets through a single account.


QBO gives you access to all of the major Asian bookmakers including:


• Pinbet88 (Pinnacle)
• SBOBET
• 3ET
• Singbet (Available on QBO only)
• BETISN
• Penta88
There is no charge to open QBO accounts. However there are a minimum start up requirements. Get in touch with us via info@bet-football.com for more details.
HOW DOES IT WORK?
All bets are entered on the QBO software then automatically placed with the bookmaker selected, it will show the best odds for your desired amount, at that specific time.

If your stake amount is higher than the amount available at the selected best odds, the system will then take the next best odds. It will give you the average price so you won't have to waste precious time logging into multiple accounts trying to get your stake on. This works for pre-game, in-running and early market bets.

A breakdown of recent bets are displayed in the bet bar (bottom of the page) or search for a full breakdown of your history using the tabs at the top of the page.

Unlike European bookmakers, if you continue to 'beat the bookie', you can be rest-assured that QBO accounts will NEVER be restricted or closed.

The platform also features really useful help tooltips across the site so it's very easy to use!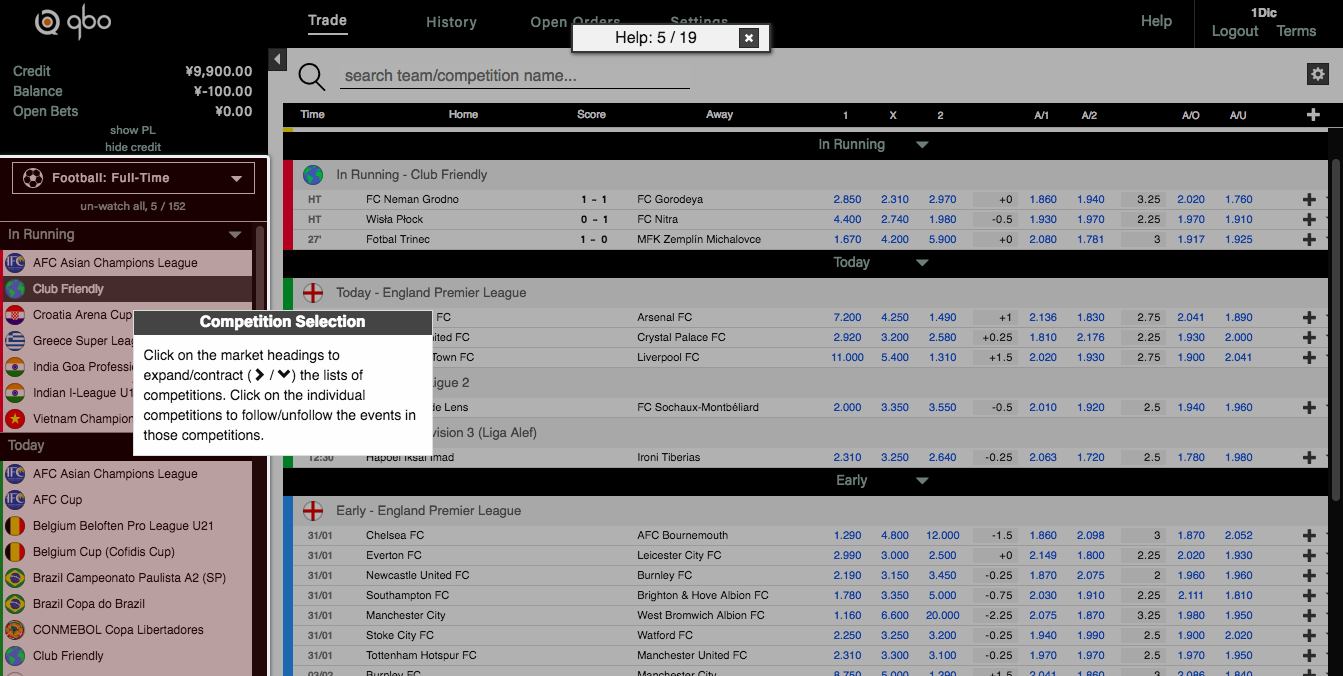 FAQS
You may have some questions while you're getting to know QBO so we've prepared helpful list of FAQs to guide you through the process:


1. What sports does QBO offer?

Football (including Half Time and Corner bets)
Tennis
Basketball
American Football
Baseball
Ice Hockey


2. What currency can be used with QBO? We can provide QBO accounts in GBP, EUR and HKD.

3. Is there a minimum deposit? Yes, we will require minimum 100EUR or currency equivalent to open a QBO account for you.

4. Can you explain my balance? You can view your real time bet-balance on the top left corner of the page. Here is an example:



Credit means the deposit / transfer that we have added to your account.

Balance means the accumulated P/L of your account.

Your actual balance available for betting = Credit + Balance
5. How do I place a bet? Select a match and the market, a bet slip will appear. Review the bet selected and enter your desired stake and the odds. Click 'place' to confirm your bet and submit your bet order.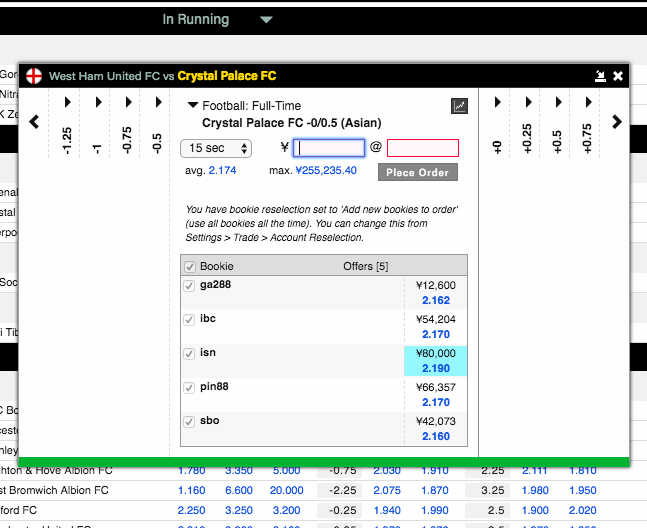 For example:

In the bet slip above, your bet will only be matched with the maximum of 80,000 – no matter how big the stake you are trying to place as that is all BetISN has available for that price.


If you wanted to bet 90,000, it would collect what is available at 2.19 and then collect the rest at the next best odds, which in this example is 2.17. They system will work out the average odds for 90,000 and show this on screen, before you confirm the bet.


Prices are continuously updated on QBO. Therefore, your confirmed stake and odds is based on the real time availability of those odds.


5. Why didn't my bet fail to go through? There can be a variety of reasons why a bet placed is unsuccessful. A popular reason could be that your requested stake is smaller than the minimum requirement of the bookie (eg. Pinnacle has a minimum stake of 5 EUR per bet) – or the price you requested is not available anymore.


6. MAXBET and Singbet have percentage-based settlement terms. Do I need to change my stake size based on the settlement percentage? No, you will no not need to adjust your stake size. The accounts on QBO have already taken settlement percentages into consideration. You can place bets as usual.

REVIEWS
"This platform allows you to hit multiple bookies at the same time getting the best price possible. It's quick and efficient to use particularly in-running when all bookies are opening books separately at different prices." - Albert O.


"It reduces my workload as it easily records your overall bet for eg. 120k @ 2.124 - betting with individual accounts would require a lot more work!" - David P.


"Easy and straightforward to use, very convenient for my betting. It's nice to have all the major bookies under the one account and one wallet, saves a lot of time and hassle of managing multiple wallets" Joe W.

"I no longer have to use comparison sites to check who has the best price, great software. I found it very useful when wanting to bet on multiple matches as the software is quick and easy to use and can see all bets under the one account." Harry L.


"QBO is an ingenious tool, why would you not use this application? Its all bookies under one roof, and you'll always get the top price in the market so for me a no brainer!" - Peter L.